FOR SALE JAPANESE VINTAGE SKYLINE GT-R Version(Original GT-X model), KGC10 1971 Skyline GT-X, L20 2000cc 3-SOLEX Carb.
1971 KGC10 Nissan Skyline GT-X modified GT-R look, We export 25years old or more older vintage japanese high performance vehicles to Canada, Australia, and the U.S.A.. For U.S. custmers, This vehicle is accepted as "Vintage vehicle" by EPA and DOT in the u.s.a, So You can import it easily, and own it as a passenger vehicle without legalizing procedures. It means that You can easily import this kinds of vintage vehicles with a little efforts only.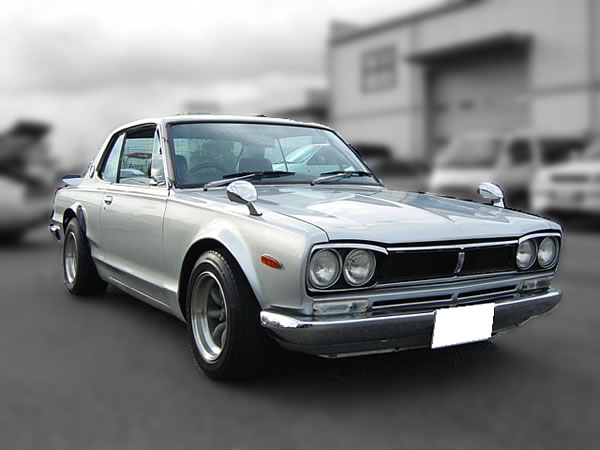 1971 KGC10 Skyline GT-X modified GT-R look
Stay your mouth pointer on each thumbnail to switching the image files.

We exported this Vintage Skyline GT-X modified "GT-R looking" to a custmer who lives in California U.S.A. last month.
We had been serching this vehicle by the custmer, special order, and then finally supply this very rare, 33 years old, Vintage historical Skyline GT to the custmer last month.

It looks very cool, and the style is the same as the Famous 1st model SKYLINE GT-R, has flare fenders front and left, Black tone Instrument panlel.

The Engine is famous LType engine, familiared with u.s and canadian by DATSUN Z-Cars.
This is is modified by MIKUNI-RACING SOLEX Carburator units, special made exhaust headers, with straight type exhaust mufler.

This vehicle is 33years old, So If you are the custmer in the u.s. and Canada, and are seriously intereted in this type of Vintage Japanese high-performance vehicles, Let me have your serious enquiry e-mail to us directly.

Canadian can import this kind of vehicle without any problems, and American can also import this kinds of vehicle , because "25years old or more older" vehicle is accepted as "Vintage Vehicle" by EPA and DOT office in the states, So You can import it without any Legalizing problems in the states.

We promise to supply amazing, nice condition vintage Skyline to you , and We believe you will be satisfied with our works and efforts to your dream machine.

This fall, This Skyline will landed in the West Coast in the U.S.A, and the custmer drives it as his personal vehicle in near future.

Someday You can see this amazing Skyline in the U.S.A.

This is not for sale, sample information!
FOR MORE INFO ;
Please contact us by;
E-mail:office@monkys.jp
TEL/FAX:+81-72-624-6153