Process for Finding your target vehicle in Japan Market
When We have an AUCTION ENQUIRY FORM, We check the latest market price for Custmer's target car, then give a "PRICE GUIDELINES" about the target car.

Custmers agree with Our PAYMENT TERMS AND CONDITIONS, We ask the custmer to send "SECURITY DEPOSIT" by Bank Telegraphic Transfer payment or Western union, and exchange house money transfer to our japan bank account.

After we have the security deposit, We start to finding the car for custmer. When we come across "Cars" meet your requests in japan market, We will send the vehicle informations by e-mail.

Custmers can decide whether "I want to get this car" or "I am not interested in this car" before we get the car in the auction house judging by the informations, the price guideline, the vehicle translated auction paper.

Custmer can avoid a lots of risks to get "NO GOOD CONDITION UNIT".


| | |
| --- | --- |
| | |
| Translated auction sheet given by us with our comments, estimated FOB/CIF price | |
The above sheet is actual auction sheet, which is translated by us.
This paper will be sent by e-mail with our Comments, Estimated FOB/CIF price in JPY.

When you are interested in purchasing "it", We check it phisically, then inform you "Better to bid in auciton", or
"Better to buy now".

In case We could not purchase the vehicle at auction, some reasons, "No good car after our physical inspection", or "Expensive price than your target price", We keep finding Next vehicle for you.

In case We could get fortunately it, We do quickly next process "Vehicle actual inspection, test driving"...


2nd STEP--Inform Custmers about Vehicle Actual Conditions by Pics, Video
INFORM VEHICLE CONDITIONS, TEST DRIVE COMMENTS CLEARLY FOR CUSTMERS
We bring the vehicles we purchased for our custmers to our stock yard 1stly, to test/check/take pics, then send custmer fresh and clear informations as earlier as possible.

All of vehicles are inspected fully and in details at our "REGISTERED MECHANICAL WORKSHOP", but Before this process,
We check the vehicle "By our eyes", and Take total 60km long distance, 30km in City area, 30km in Highway TEST DRIVE.
Then Check "Actual drive feelings", noises, smells, all informations We can get by this test drive, then show the video files on our YOUTUBE page, send our comments by e-mails.

We give advice for The weired parts, the parts need replacement, or recommend for replacement with
actual parts & labor costs, then we repair the car at our factory following custmer request.

All the car is supplied to our custmer after "Inspections, clean up procedures".
(Repair, tune-up, modification service are available only "Fully inspected supply service")

Regarding to the "Cost, to replacement parts, etc",
As We explained already, We are an "REGISTERED WORKSHOP", We estimate PARTS/LABOR cost quickly, then send you the quotation by e-mail in details. Then You can decide , "Maintenance in japan" is better and cheap , or You do all by yourself after you import it from japan... As you like.

Our Mechanical Workshop has been dealing with many Nissan, Mazda, Honda, Mitsubishi, All makes Car dealer in our area, so You don't need to worry about "Quality of our job". Our workshop doing business since 1965.


---
Those pictures are the same pictures we sentdto our custmer when the vehicle arrived at our stock yard
We always send 20 to 40 different angle pictures per 1unit used vehicles at this 1st step.

You can see and grab "Vehicle Conditions" you purchased via us very easily, and We send also "VIDEO" files, see and feel
test drive feelings, and options works or not, like Power window, Sun roof, Air condition, lights, signals, etc...


"Just Arrived" picutures are sent by us immediately after The purchased vehicle comes to our yard.
Body Condition
Body Condition
Body Condition
Body Condition
Body Condition
Body Condition
Engine
Parts, worn, or not report
chassis condition
chassis condition
Tires/rubber parts condition
Brake condition
dents/scratches
Interior condition
electric option test
all these pics sent by us with
our comments by e-mail.
We normally send total 100 to
150 pictures of the vehicle.
Take all BEFORE WE DO REPAIR
and CLEAN IT, to inform actual
vehicle conditions clearly.
TEST DRIVE VIDEO
OVERALL CONDITION VIDEO
3rd Step--Inspections, Replacing parts works, modifications at our workshop
We send detail pictures which We do "Modify, repair, tune-up, and clean up" for custmers cars.
It is very important for the custmer to know actual vehicle latest conditions before the shipmnet
| | | | | |
| --- | --- | --- | --- | --- |
| | | | | |
| At our Registered Workshop | | Changing oils, and filters (AMS) | | On the Hoist |
| | | | | |
| Check in details carefully | | Find issues by our eyes. | | Brake disassembled, then assy |
| | | | | |
| After inspection, Removes parts | | take the old part condition pics | | Parts We changed... |
| | | | | |
| Water pump, Tbelt tensioners... | | All chassis completely cleaned. | | Aftermarket parts installation.. |
| | | | | |
| | | | | |
Final Step--We send "Final update pictures of Cars, Trucks you purchased,
We do same "Quality service" , Stock car buying service,
We prepare the car before the shipment completely, then take all the pics from "Start " to " at the end", then
send all the pictures, the reports to our custmers,

Normally This Final Step pics, We send you by e-mails, separatelly total 200 to 250 different angle, 800X600 pixel
size pictures.

If you could not accept "Megabyte size" mail box, We make a PHP Picture gallery page by our Web-database, then
inform you the URL by e-mail.

YOU CAN SEE MORE IN DETAILS, feel like "you grab , touch, drive" your vehicles seeing those pics...

WEB INVENTORY FOR CANADA CUSTMERS---All the vehicle in stock are 1988,1989,1990 15years old cars only
Message for Canadian Buyers - - -10Years or more older car Custmers
-- SAMPLE CARS GALLERY --

ALL CARS RECONDITIONED IN OUR FACTORY, YOU CAN SEE RECONDITIONED USED CAR PICTURES HERE
All used cars, trucks available in japan market is obviously lower km, and pretty good conditions, ex, No rusts, holes on underchassis, and Interior looks clean, painting better , than similar year model canadian used cars, or USDM used cars, trucks available in canada.

However, 15years old car is not same as 1years old car, 5years old cars, more older than them.
If you would like to get "Good mechanical condition" 15years old cars, You'd better to deal with exporters and dealers who can inspects car in fully before "Buying", and has ability to recondition, repair the purchased cars at Reasonable fees.

We are an smaller size exporters, but We have our own maximum 100units storage yards, and a registered , liscensed mechanical workshop with Paint shop, and a small size tunning shop in our group companies, offer wide varieties of "Additional services".
You can get Your target car, with more "Confortablity, and reliability"..

We are the best place you can get your dream cars, trucks in japan.


Order Process for purchasing veicles...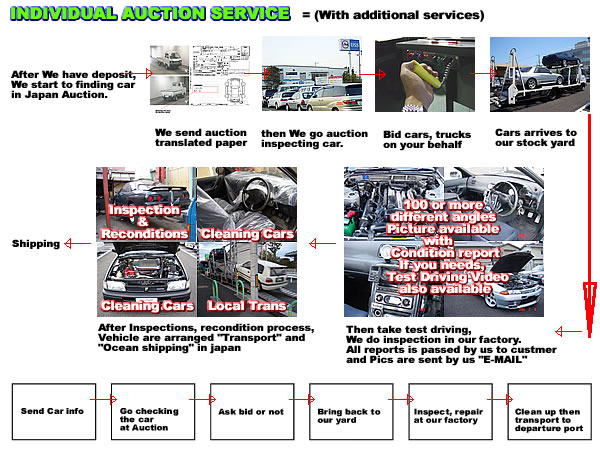 0
Please send

"Auction Buying Enquiry Form"

to us. We reply by e-mail you within 48hours and ask you
of "More Details about vehicle Conditions, acceptable kms, and Need "Additional service" or not.
Following to your Request Conditions, and With services, We estimate "F.O.B " price range for Target
Cars, or trucks you want to buy, with our Services.
1
You can make your decision to place an order with us, "Individual Auction service", by our reply e-mail, then we
ask you to make the

"Deposit Payment"

by Bank T/T , Western Union , or PAYPAL payment.
We will start to finding cars after we confirm bank T/T paper, western union money TT #.
2
You can use

"MONKY'S INC ONLINE AUCTION"

and

"USS AUCTION CAR LISTING"

, browse
all cars sold in japan used cars, truck auctions all over japan, monday to saturday at your local PC.
3
You send us

"Auction Lot # & Auction house name"

via E-mail or via MONKY'S INC ONLINE AUCTION.
We have your requests, We translated auction paper, then return you with our comments.
4
Please inform us by E-mail, or phone us by "Verbal" "Go to bid it". We follow your decision, then go auction house,
inspect cars for you, then report the vehicle conditions before Auction time.
5
When The auction successfully bid, We arrange Local Transportation for cars, bringing back to our
Factory space for

"Detail inspections"

. Normally takes 2 to 3days, then You can get 100 or more
different angle pictures, and The vehicle running condition report, and if needs, Test Drive Video.
6
After Detail inspections at our company factory, We send "Vehicle Condition report" to custmers.
Parts Conditions(Brake pads, Rubber belts, Rubber boots), and Other points We concerned are
informed by us by E-mail. Also We send "Parts Replacement labor fees, and Parts Costs".
All the Labor fee is 30% Less than "Dealer labor fees", very reasonable for Custmers.
7
After you get our "Condition report", Let us know "what parts We repair, replacement, install, etc".
We will make the "Invoice" for the rest amount of the purchased vehicle, and the labors, the parts
fees total, Then ask you to make the payment within 1week.
8
After We confirm the rest payment, We start to "Doing all recondition, modifications, etc" process
, then cleaning cars completely, prepare the shipping process.
9
We finished all the above process, We start shipping arrangement a.s.a.p, then inform you
when we get the booking on the roro boat, or the container shipping
10
You get the car at the destination port, and all shipping documents sent by us DHL or EPS before
the boat arrives to the destination port.

Business Terms and Payment- -
PAYMENT MODE:
Please make the money transfer by Following payment methods. Currency is JPY(Japanese Yen Only)
1. Bank T/T (Telegraphic Transfer) payment
2. Western Union Money Transfer
3. PAYPAL (Requires 8% additional paypal fees)
NOTE : CREDIT CARD PAYMENT VIA PAYPAL
The Payee name and the Credit Card Holder name, or The Paypal payee name must be the same,
due to the Money Laundering laws in Japan. Any difference between Payee and Credit Card Holder
name can't be acceptable at us.

After you make the wire transfer by Bank T/T, Please send us Bank T/T copy, by Western Union, send us 10digit #.
The Deposit Payment is required by us Before Bidding cars, or trucks in the auctions.

NOTE:
1). We accept only Payment in Japanese Yen (JPY).
2). The deposit is "Refundable", except "After the bidding is successful".
When we refund the deposit, All these fees are deducted from the deposit.
Bidding fees total (1,000JPY per number unit we bid), Bank T/T fee (10,000JPY).
3). The deposit is deducted by us, and Not refundable In case You don't send
the balance within 48hours after We send "Invoice".


Deposit Table
F.O.B Total up to 500,000JPY
100,000JPY
Over 500,000JPY to 1,000,000JPY
200,000JPY
1,000,000JPY to 2,000,000JPY
30% for F.O.B Total
2,000,000JPY more
50 to 100%
BUSINESS TERMS & CONDITIONS
Our Business terms is basically F.O.B / C.I.F price basis.



* The bidding fee 1,000JPY charged every bid even though the bid unsuccessful
*Additional Local Transport fees charged in case the auction house far away from
the discharging port(We will send charge table after confirming your deposit)



Claims

Parts missing, and stolen parts issue occured in transit to lands in the destination port is excluded.
The brand new mechanical parts We installed in our factory has problems as long as you drive normally, We will send the
alternative new parts within +100km odometer reading(Plus 100km on the final odometer reading in japan).
These parts are excluded from "Warranty", Electric Aftermarket parts installed in the room, the engine bay. any
accessories (Radio, TV display, shift nob, turbotimers).
NOTE: MODIFIED CARS
Modified Car is more sensitive than Original Condition vehicle, Some problems occures by Miss handling, rough driving,
Different weather , road conditions, quality of fuels, oils, fluids, so Not Any claims, warranty acceptable at us.
Please inspect car carefully before you drive it in your country.


Bill of Lading and other shipping document amendment
Any changes for documents after the shipping requires the additional fess, 10,000JPY per 1B/L.
We can't make "Changes" on the documentation before we accept this fees in advance.


COMPANY BANK ACCOUNT INFORMATION:
Company Name : MONKY'S INC
Company Address : 2-17-19, Mishimaoka,Ibaraki-city,Osaka567-0021,JAPAN
TEL: +81-72-624-6153

Bank Name : RESONA BANK
Branch Name : Tamatsukuri Branch office, Osaka , JAPAN
Account Number : 1622127
Account Holder : MONKY'S INC Mr.Yasuhiro Totoki
SWIFT CODE : DIWAJPJT




MONKY'S INC CANADA CARS DIVISION (Office in Japan)
2-17-19,Mishimaoka,Ibaraki-city,OSAKA5670021,JAPAN.
TEL/FAX:+81-72-624-6153 HOT LINE:+81-90-2062-2270
Enquiry for Stock Cars : Stock Car Enquiry Form
Enquiry for Another cars, trucks, or Auciton service : Auction service enquiry form
MONKY'S INC JAPAN -- Japanese Performance Modified Skyline GT-R Exporter