--Make it looks good? and Good condition?--
Yes, of course, But Not only for "Looks better"... All for our custmers.
Natural Taste, Original Beauty is our Keywords, and Policy.
We don't use any "Make up tools, cosmetics", Clean up, make it back to Original.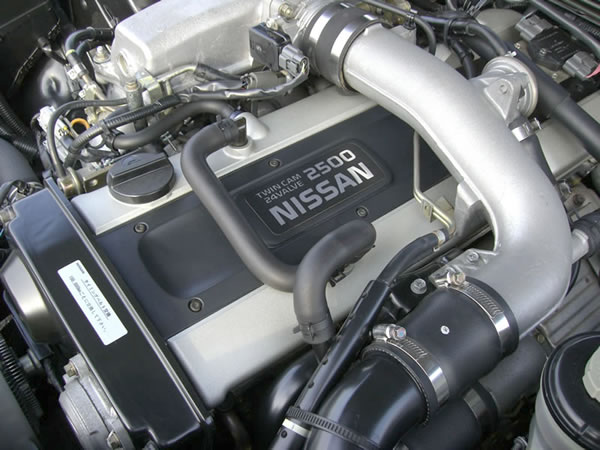 1993 Nissan Skyline R33 GTS 25T Type-M Engine Bay/ Not Make up by any "products", Completely Cleaned up by us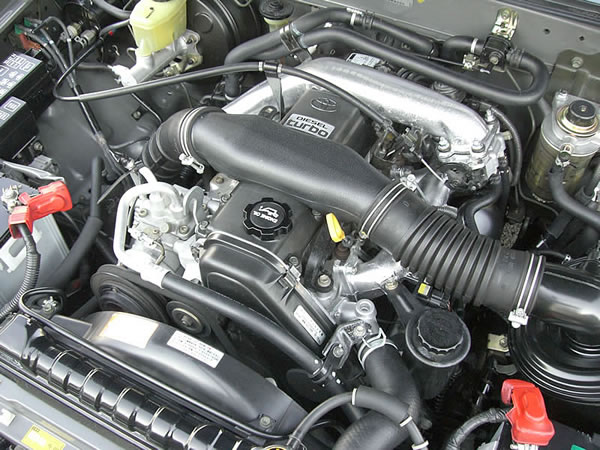 1993 Toyota Hilux Surf 1KZ 3L Diesel Turbo Engine Bay/Same as SKYLINE, No magic, We always do our best..

How do you feel our Style? better? or not?

--Our Standards
Vehicles We sell are "Cleaned " fully following to our standards.
Interior : Cleaned up completely, Looks Factory Original Beauty, do not use any high gloss sprays
Engine bay : Cleaned up Completely, Same as Interior, do not use any high gloss sprays, Looks Show room condition
Exterior : double-action machine polished, Polymer Coat or optional carnaba wax (Zymol/Sureruster) as you like
Underchassis, suspensions : See also this "MONKY'S Pre-Shaken-Maintenance Service"



When you purchase vehicle on Auction Buying Service....?


You need same quality standard service , plese choice "Fully Serviced".
Same quality service is available for vehicles, we purchase in auction, local market, dealers for you.


--Keyword is Original Beauty
Our Car Cleaning Service keyword is "TO MAKE IT LOOKS ORIGINAL BEAUTY", Natural taste, Not Made up by Artificial flavors.
We use only the products, We actually tested, confirmed "Not harmful for any products", and All non toxic, Petroleum/Silicon free only.


It's very easy to make the interior parts, the engine bays, the body panel "Glossy and Shiny". Many kinds of "High Gloss" products available here as "Professional usage", and all says "Not harmful for vehicles". However We had been using such "Glossy" products for our local custmer vehicles for many years, and We completely understood that All of them damages plastics, rubbers of vehicles.

Example, "Tire wax", available many kinds of Tire waxes here, Very easy "Spray type", or "Dilute by water", or "White type". All are made by Petroleum or Silicone Solvent, it blocks "Tire breathing by itself" strongly, then Tire surface will be damaged soon. The tire rubber has self protection ingredients inside the rubber. If we would Spray "Tire wax", The tire can't breath, As a result, short Tire life. This is a very famous and generally "Accepted story" by Professional Car Detailing Service providers.

The similar products, Generally used by "Used Car Shop/Dealers", and sold as "Gloss/Interior Cleaning sprays", "Gloss tires, Plastic", or "Rubber/Plastic Protections" , and all usually sold as "Professional use" has also "PETROLEUMS, or SILICONE SOLVENT". They short all plastic parts, rubber made parts "Life time" in the engine bay quickly more than "Using on tires or interior plastic parts". Because The engine bay is always very hot, and heated.. This Heat accerate "Damages" on the plastic parts by "Petroleum, Silicone products". Those "petroleum, Silicone Emulsioned Liquid products" normally made by "Same or similar ingredients", Even though the Production maker is different, We tried to find "Non silicone, or petroleum" products all in japan, but All of them made by "Silicone or Petroleum Emulsions".
We had been using, testing many different kinds of those products before, But We didn't meet any "Good & Not harmful" products never.
As a relust, We don't use any Similar products, and understand that "Clean all by Mild, Non toxic" detergent blended by ourself, and takes much more time than usual.. Make the vehicle "Back to Original beauty" is most better for Custmers.

If you would not know "Original Beauty", We recommend you to go "Brand new vehicle dealer show room", then open the door, check the dashboard, all plastic parts, and the Engine bays. You will understand Any makers doesn't use those products. They know that Those Gloss items is not "Good" items for vehicles, Even though the Show room is outside buildings, and Parking under Direct Sun light. As your references, Any maker doesn't recommend such "High gloss" iterms for Plastics, and rubbers at all. Doesn't line up any similar products as Dealer optional Car Detailing producsts. The Vehicle Dashboard is "MATTED" so as not to reflect sun light to the front glass freely, and All Operation Systems, Steering rims, Shift nob, wiper/Turn signal levers, all must be "Not slippy by Plastic make up sprays" , to avoid miss operations on Driving vehicles. Juding by these , and Safety issues, We don't use these products inside vehicles. We are an Registered, Liscensed Shaken Workshop has many custmers here, so We don't work anything to affect negatively for "Safety Driving".

This is "Original Beauty" example, Not sprayed any products, Return to Origin by our efforts.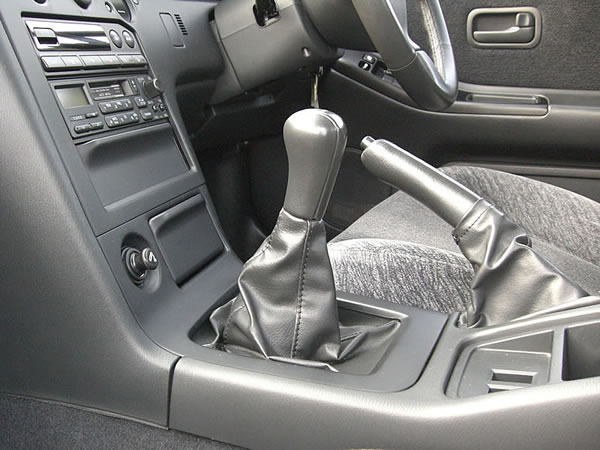 For Safety Driving, we don't use any polishing make up products inside vehicles.


Here is an Interesting Examples, report about the Harm by Tire wax, and Silicone, Oily sprays.


"Tragedy by Tire Was story, reported by an Japanese Tire Shop"



This is an example of "Tire wax dirts tires by itself".

| | | |
| --- | --- | --- |
| | | |
| Tire waxed | wax adhesived with dusts | cleaned up completely |

We always Clean Tires completely, then "Rims" fully Polymer coated, the tires back to "Original Condition" natural & original beauty

| | | |
| --- | --- | --- |
| | | |
| Clean Completely | Clean Completely | Looks Original Beauty |



Chassis/Suspensions/Floor Cleaning, and High Quality Rust Preventives Service


1stly, We clean, remove all muds, dirts from the chassis completely, make it back to original factory condition.


We choice the best Cleaning methods for each vehicles. Using a high pressure Steam/Kerosine cleaner for SUV, and Truck vehicles, which has less "Rubber parts" than passenger vehicles, and using High pressure water/detergent, with human's hand brushing for Passenger , sports vehicles, which has more "Complexed suspensions", "Rubber parts", and "Electicical wireharness".
Select the "Best Items", and Do proper Cleaning ways, better for all types of vehicles.
We recognize "Machines" are very useful, and helpful for us, but Not 100% satisfied. All process checked by our eyes.
Our Service is welcomed and satisifed with "Very strict requests Japanese Local Custmers" for many years.




Chassis/Floor/Suspensions covered by Quality Rust Preventive products. Noxudol, POR-15, etc.

It's very unfortunate issues that Most of All Japanese Mass production vehicles tends to "Rust more" than VOLVO, SAAB, from Winter area counrties, and MERCEDES BENZ, BMW, VW from European countries, except some heavy duty models, specially rust preventived winter area version vehicles, or Hight class vehicles like Celsior. Especially Cars already 15years old or more older requires PROPER RUST PREVENTION PROCESS after Chassis "Water Cleaning", if let it be, Terrible issues occurs. This issues is caused by the "Paint quality", and the difference the cultures, the situations between Japan and European Countries. Japanese "Buy-Sell" period is less than half of "Europeans", All Makers doesn't pay "Cost too much" for Rust prevention treatments on the floor parts.

In Japan, A Rust Preventives are very popular service for old age vehicles, as one of "Pre-Shaken-Maintenance Menu", and Well experienced workshop, do this Rust Preventives as one of Pre-Shaken-Maintenance. The vehicles Not Covered by "Paint" on good manner rust very easy, and it losts "the worth of vehicles", finally kill by themself. Body is a very important part of vehicles.
We do this "Rust Preventives" process after Cleaning the chassis, the suspensions, the tire house completely, and This service is welcomed and satisfied with All "Japanese Strict Custmers" for many years. All Cars We sell to Canada, basically "Clear Type" rust preventive coat, but If you would like to be processed by "Strong, durable paint", Please request us. We use NOXUDOL Brand Certified by VOLVO, or POR-15 famous for Restorers, more durable and stronger than Simple Black and Clear , thin film type painting.


| | | | | |
| --- | --- | --- | --- | --- |
| | | | . | |
| Standard | Optional | Optional, additional fees | Optional, additional fees | Optional, additional fees |
| Popular Clear Type | Popular Black Type | POR-15 | Noxudol Black Type | Noxudol Bitumen Type |
We know some exporters uses "Black Chassis Spray" to hide the rusts, and the corrosions of the panels, it's a very silly job, We feel so sorry , as a experienced workshop. We show Many "Before" we wash, "After" we wash, and "Dried" before painting, then "After" We paint by Rust preventives, So You don't need to worry about rust issues at all. Vehicles Not Painted Any After Washing, or No rust preventived vehicle has more risks , rusted badly in future, We recommend you to ask of this issue against your suppliers, see detail pictures.
BASICALLY ALL OF OUR VEHICLES ARE CLEAR TYPE RUST PREVENTIVED. IF YOU REQUIRE MORE DURABLE, STRONG POWER RUST PREVENTIVES, REQUEST US.

Here is an example pics, "Before We wash", "After We wash, then DRIED", then "Our standard Clear Type Rust preventived", you can see where is the rusts, faulties very clearly, and we show those pics in our webpage,
Example car is Subaru WRX, Stock Number GC8-003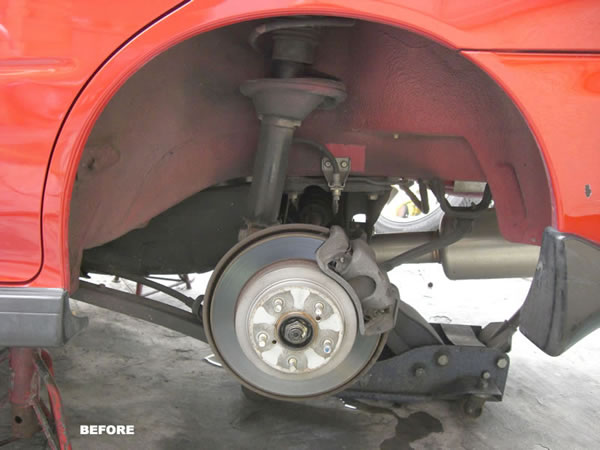 Before wash, you can see rusts, corririons if there are, very clearly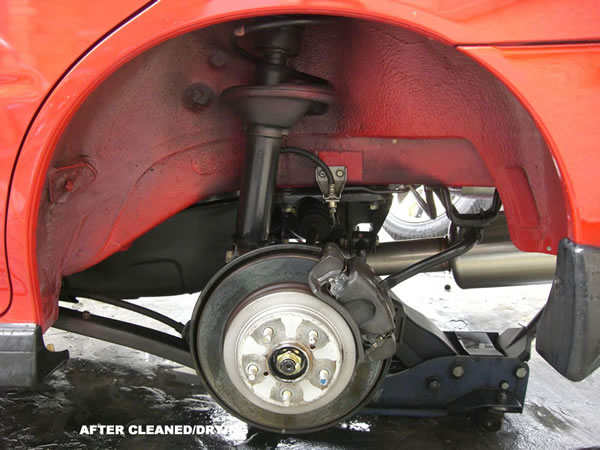 Washed/Dried pics shows more clearly about rusts, faulties if there are, very clearly more "Before"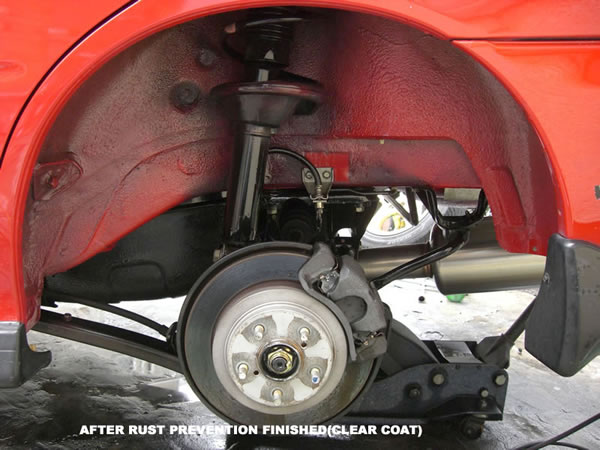 Rust Preventived, and Keep "In Good Looking", of course more strong preventives available at us.
Engine Bay Cleaning?


Engine bay cleaning is a very important process for us , To find mechanical faulties, and Parts Conditions in details.

1stly We recognized that, Engine bay cleaning process is the a kinds of mechanical inspections.
We can find many parts conditions, oil leakages, gas leakage, fuel leakage very clearly when we clean the engine bay, then we can take proper repairment process by this inspection, and judge the parts conditions, "Worn, shrunk, or broken already", etc, etc. We have had much experience We found "Cracked vacuum pipes", "Worn, damaged plastic parts", "Hoses which has a pin hole" when we wash the engine bay, and this help us a lot to "Refurbish" vehicles. To make the vehicle looks much better is an important for Car sellers, but Not all. We pay much attention to this process, finding faulties as could as possible, then repair all before for sale. as a result , All of our stock vehicles has no mechanical issues. 15years old vehicles has usually some minor problems, and it's very normal, even though it looks "Very clean, and good on mechanicals". To guess "Minor/serious issues" might occurs near future is very important for us.

We always use any kinds of "Parts, detergent, oils, minerals, liquids" as long as They are actually "Good for vehicles". The reason We don't use those "Glossy Products" is that It's very harmful, No profits on the vehicles, and We tested many times, and confirmed it.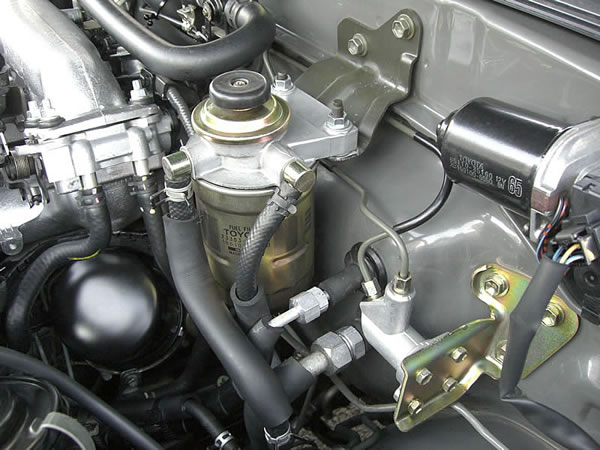 If you feel better about our efforts, We are very happy...



If you like "Artifically shined, Glossy, Oily, luster" parts, We can do for you, But Our business policy is Supplying Best vehicles, so We hope you will be the custmer who are informed, has ability to select "Well maintained, Good condition" vehicles".

We pay much attentions, times, costs to make our vehicles "Actually Good Condition vehicles", and We are very happy to deal with Custmers Who understand our efforts, and quality of cars, business.

Just only "Gloss spray", but It's not a small issues for our custmers, and us, because We know Most of our custmers pay their money to us, and We can do our business by our custmers, We know "To do our best" returs custmers again always.


Car Cleaning Process Sample : Stock No S14-003 Nissan S14 Silvia K's

Those pictures shows you How do we clean our stock vehicles before For sale.
We hope this sample is a good reference for you, and All pictures are avaialble at S14-003 information page here


Interior Cleaning Process : Our Policy is "Original Beauty"
As long as the original condition is good, No need to protect by any chemical products.
It shines very well, and We don't need to enhance the "Shine much more" by Chemicals.
This picture just before "Interior Cleaning process". Looks not bad, clean than usual, but The worst issue is that the "high-gloss" sprays used on all plastic, leather parts inside, outside vehicles. We started to remove all these "Glossy sprays".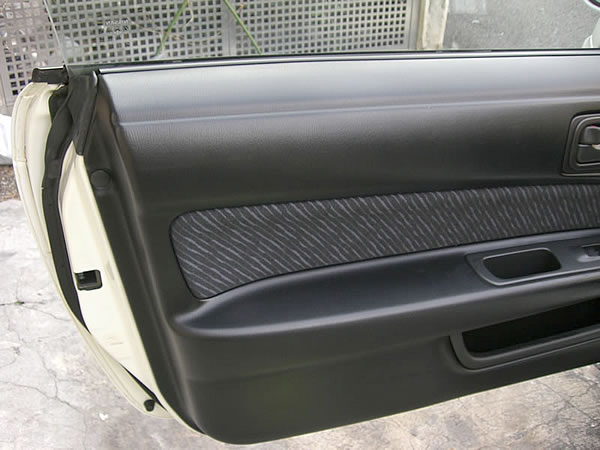 The door inside plastic panel, used High-gloss spray, Looks "Very bright", but so Oily, and once touch the plastic panel, feels like touch the oils... very unconfortable, even though Looks "Shiny". The more you see pictures, You can understand How really Dirt, even though Looks Shine.
This is just before "Clean the towels". You can compare again the water colour, after we finished all these Interior cleaning.
1stly Spray the special blended detergent, then wait a few minutes. To flow the dirt very well, make it easy to "Wipe off" the oils, the dirt attached on the panel.
Wash by soft Sponges gently, carefully, not scratch the panel surface. Most of dirts, oils, gloss sprays are "Diluted" by the detergent at this stage.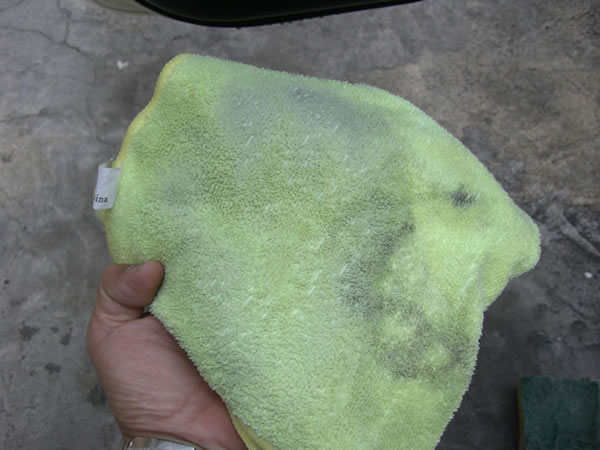 wipe off immediately, take off all "Dirt, Oils, all" by microfiber towels, then if possible pour waters, or wipe off by The towels, has much water, and finally wipe off by The Dried, clean towels.
This panel was back to "Original Mat Black" colour. Not Glossy, Feels so natural. and doing same process for all interior plastic parts.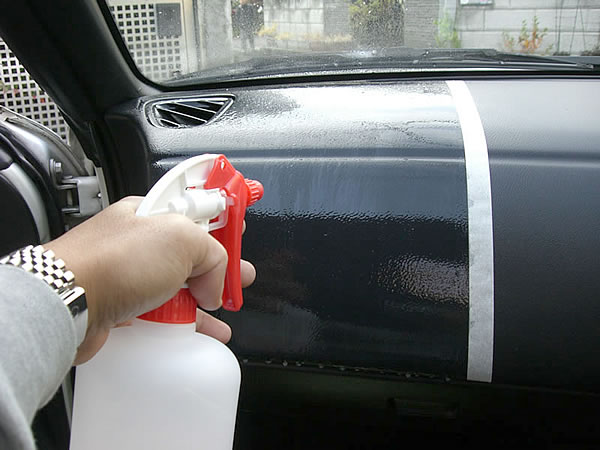 To show the "Gloss sprays" removed more clearly, We separated "left /right" by a white tape...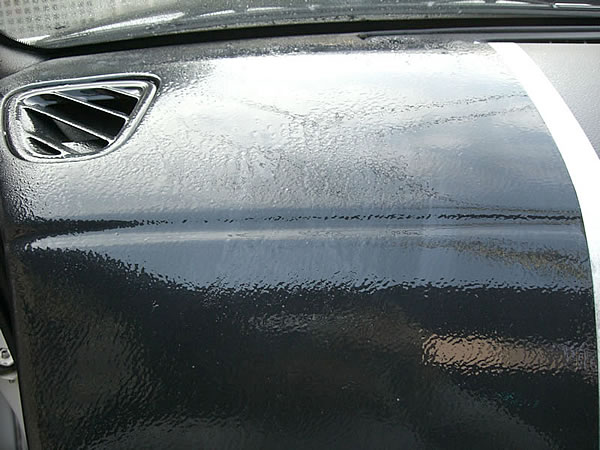 Most of the dirts, the greases sticked with Glossy sprays came off..One of negatives of these "Plastic shine sprays" catches lots of "Dirts", "Dusts" strongly, Looks clean, but actually "Dirt".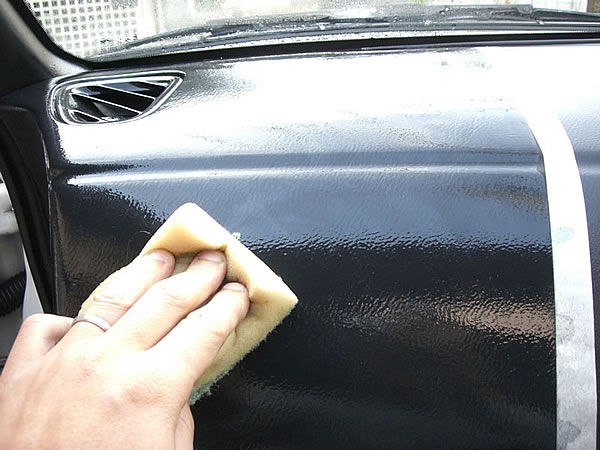 Same as "Door panel", washed by soft sponges.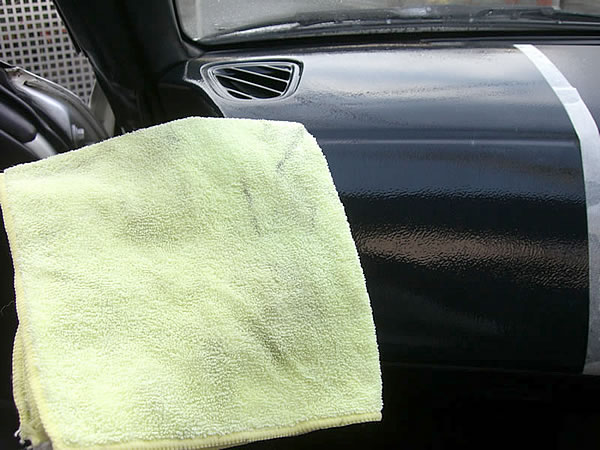 Before "Wipe the dash panel"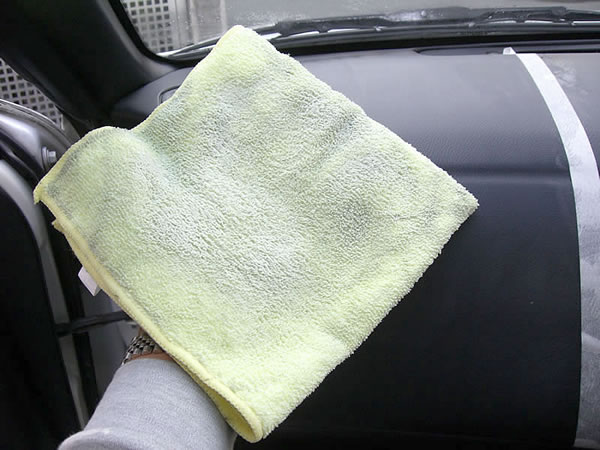 Dash Looked clean, but Actually This towel shows us "Really dirt". "Gloss spray" itself is the Dirt, and it adsorbs the dirt, the dust in the air strongly.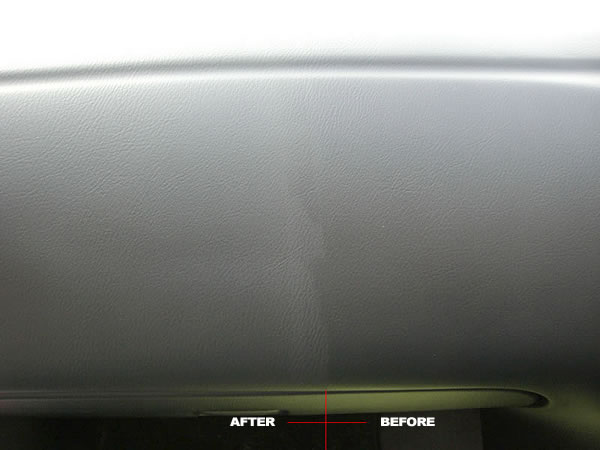 The left part of the borderline(The white taped) are cleaned up, Not Glossy, Mat colour in this pict. the reight side is not cleaned yet, This is the original beauty, Not "Make up".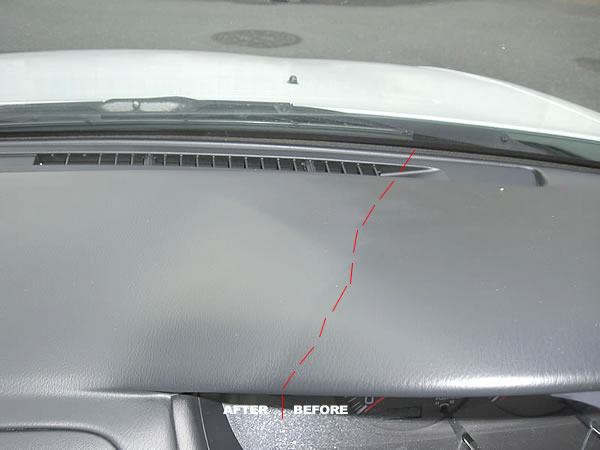 Same as "Passenger dashboard panel", The left side "Cleaned up", The right side "Before".. You can see the reflections very much on the edge of the Driverside dashpanel.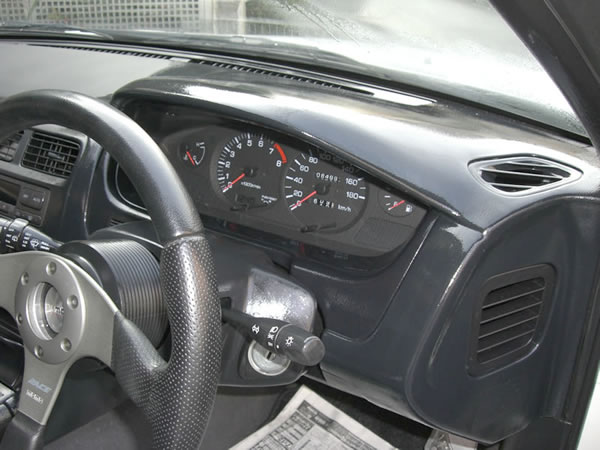 Same "Cleaning process" the rest part of the dashboard panel.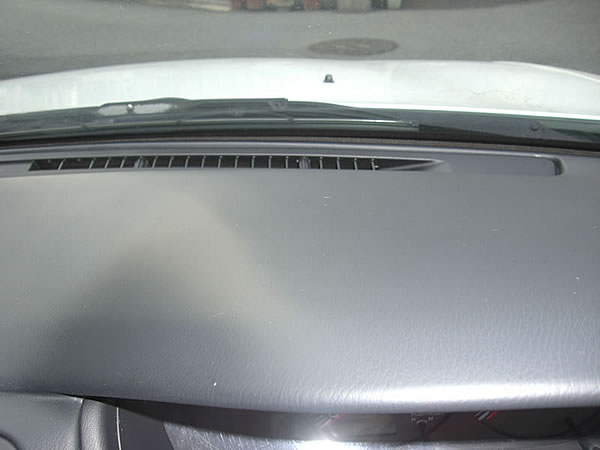 The dashboard was back to be "Original Beauty".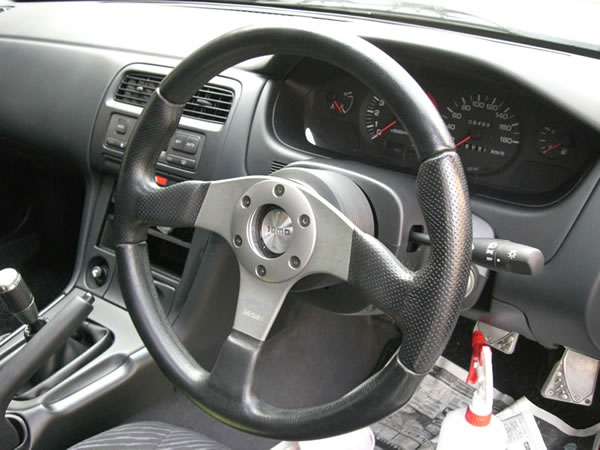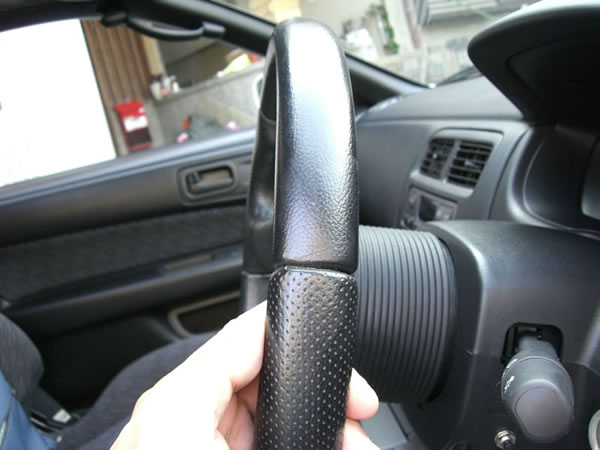 Those Leathers are originally "Not shine", Especially Steering rim has not to be "Slippy", so always not gloss, mat painted leather, but using many years, Looks Glossy, can't see the wrinkles of the leather surfaces.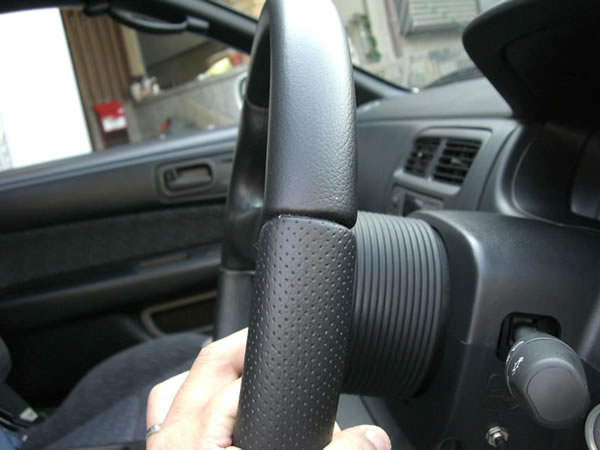 After our cleaning process, The leather items looks "Back to Original Skin". see wrinkles very much, back to "New products", original beauty...We can feel "Fresh, Clean" on driving it.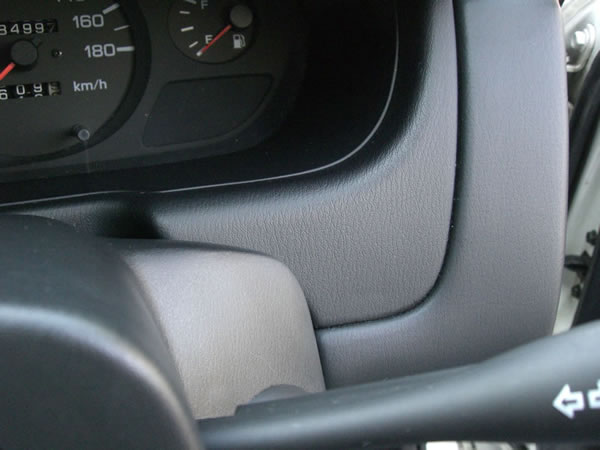 Already Cleaned up, This "Taste" is Factory original condition.. Not polished, original plastic feel.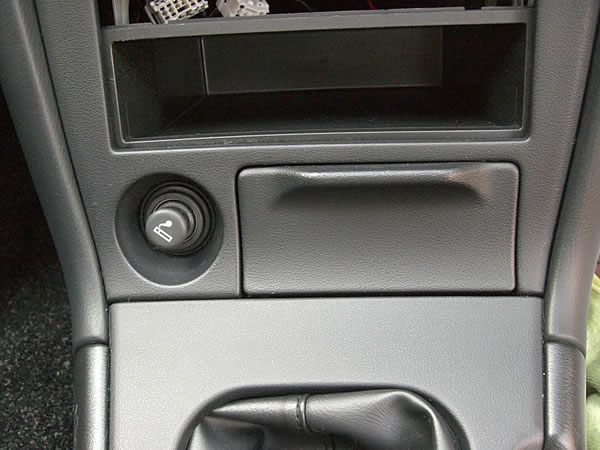 Those small parts removed, cleaned, then assembled again. and You can see the original surface conditions, and feesl more "Looks like new car??", because Not artificially flavored Beauty.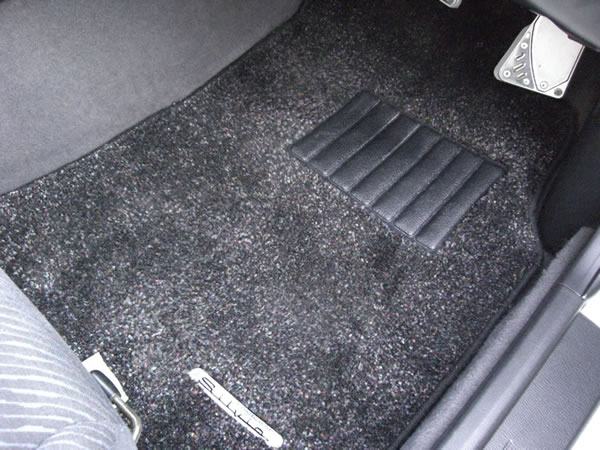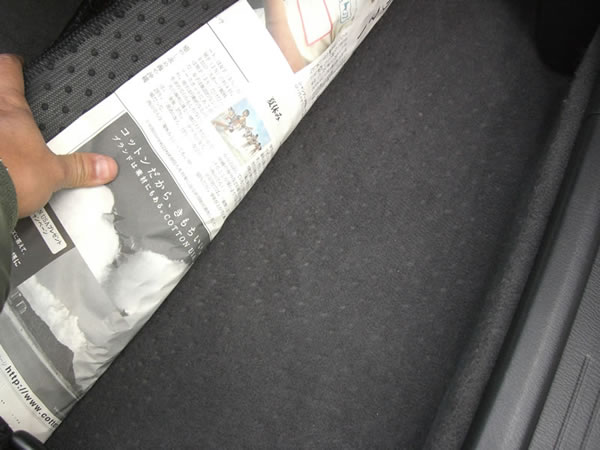 Needless to say, All floor mats "Cleaned , vacuumed", if necessary "Washed completely". The floor carpet washed by the detergent, the dried up all.
This is an usual material seats, Bucket?, Lether seats? Same for us. We do all clean up completely.
Usually all the seats "Removed" from the vehicle, Clean each seats, dried up, then assemble again.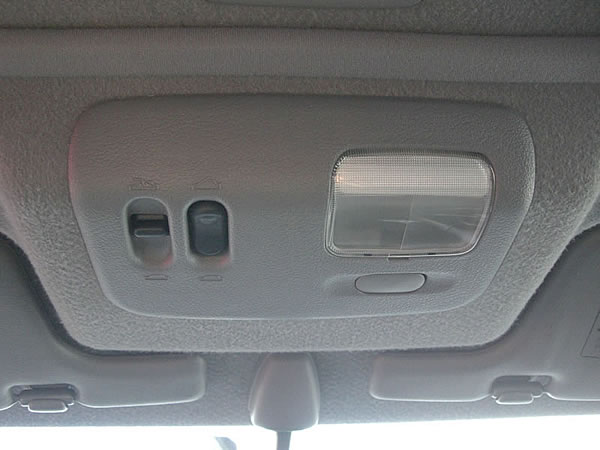 We do same for "Roof cloth", using pig hear brush gentlly, remove dusts, then washed, dried up. These parts removed, cleaned up , put all again..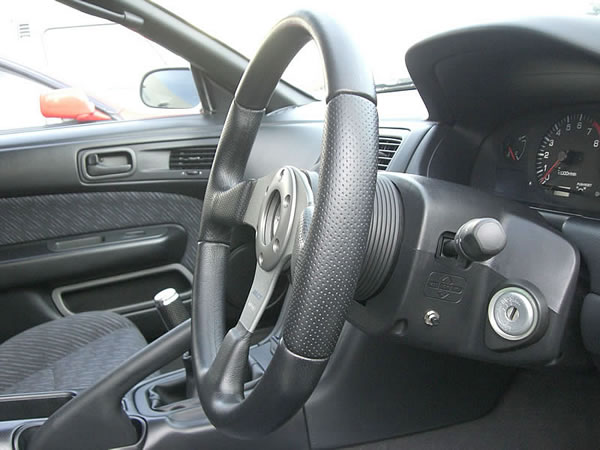 After All Cleaning process... All the interior back to "Original beauty".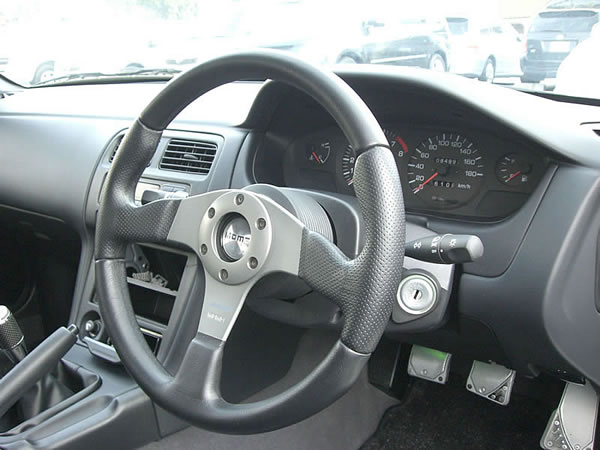 People who likes "Glossy, Shiny", but this is our "Style". We do all these by our policy. So If you like flavored style, we do it for you, but We believe this is much better for most people who like vehicles.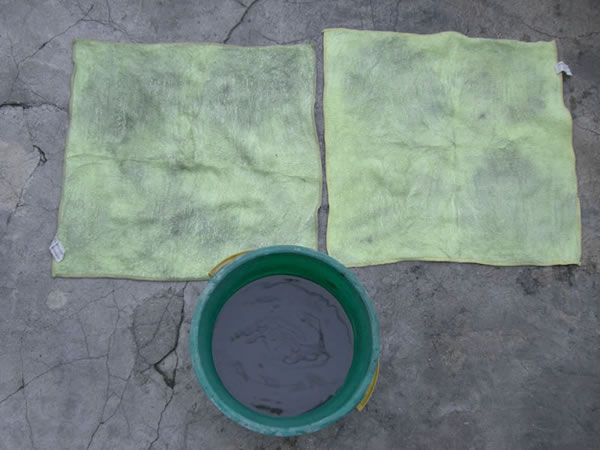 This Black water has all "Dirts, and Greases" removed from the interior parts.
Chassis Cleaning Process :
Remove Dirts/Muds Completely, then "Rust Preventives".
We clean the chassis, the floors, the suspensions parts completely, then "DRIED", and Paints by High quality Rust Preventives certified by Auto makers, Volvo, Nissan.etc. This Rust preventives are very popular service for over 10years old vehicles in japan as one of "Pre-Shaken-Maintenance Menu". Please feel Our Japanese style service.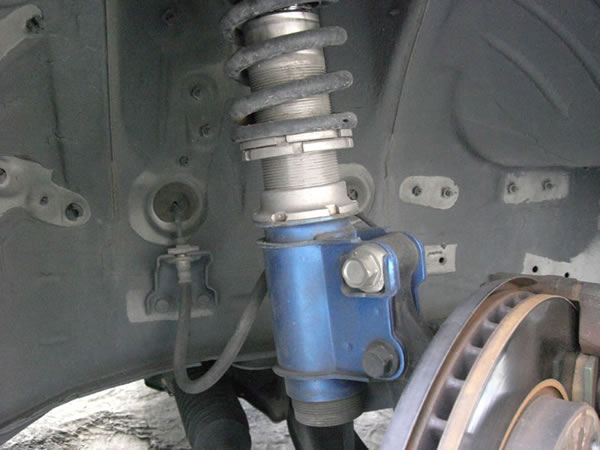 This is the right side tire house, and the coil over, Not washed yet, just as it is when it arrived at our yard, we just checked the conditions of the underchassis, the tire houses, rusts, dents, etc.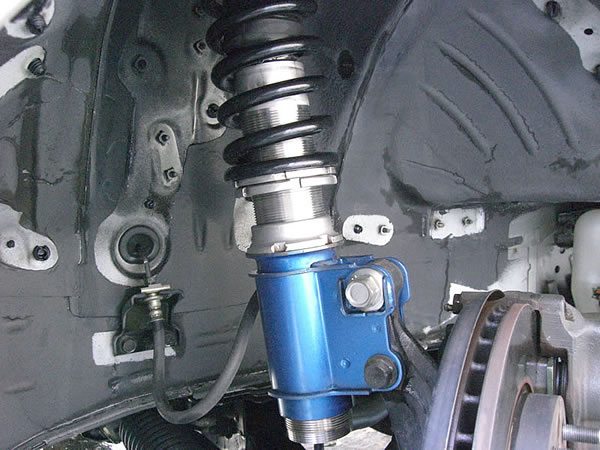 Just Finished "Washing", we do Hand-brush-washing, and Steam-pressure-water washing.. to remove all dusts, sands, muds from the hidden area, and the small area.

The reason We show the pictures "AFTER DRIED UP"?? is that You can see more "Faulties" by pictures very clearly than Show the picutres "WET, JUST WASHED".

It's very easy to show "Looks better than actual" by Magic, Wet chassis hides all rusts on the black parts by the light level... We show "Actual Conditions", That's very important for you.

We know Most areas in Canada, has "Snows very much" in winter season. "Rust prevention care" is a very important issue for canadians... We always use "Rust prevention laquer coat" for Under chassis, Coil overs, suspensions, and all metal parts under the chassis.

To protect by "Salts" on winter roads, Tips/Sand stones by Running on high-way, by Waters , heavy raingings, Very easy for you to keep the chassis, the suspensions "In good condition". You just wash again after "Dirts, nuds" as long as "Proper rust preventive process" finished by Us.

"Black and Clear" coat , both colour available at us. Black Spreay merit is "Easy to find the rusts" in future... Clear Spray merit is "Looks original Parts".Black spray more "Long life" than Clear spray, so We do as you like. We mailny use "Clear" for normal , sports models, and "Black" for SUV, and Trucks.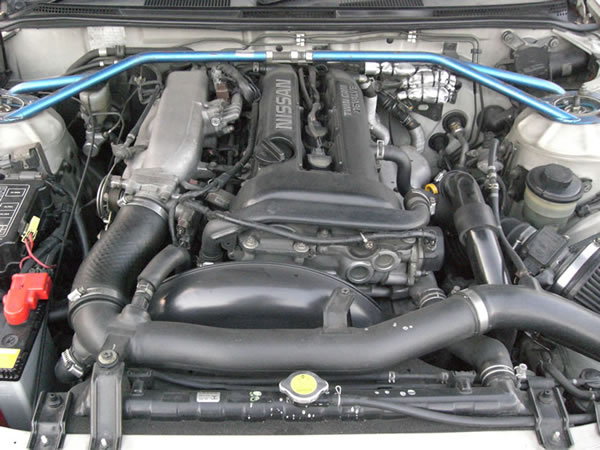 THERE IS NO EXPORTERS WHO SHOWS BEFORE CLEANING PROCESS?? WHY??
Because We have to show many faulties if there has "Faulties"... but We show all.
This is the big difference between Others, and MONKY'S INC,

You can see "Positive and negatives" at the same time, and How do we care for vehicles, You knows very much after You see the pictures We show you "After cleaning" process.

"Washing process finished".then make the engine bay "Drying" 1day. then Check the rubber pipes, the plastic parts "Crackes, surface holes, etc".. if We find "Faulties", We change all with New parts.

To Clean and wash engines is very risky for Us, because "Worn parts" damaged, we might have to replace many parts, But this is a good for "Custmer" who purchase it, because Already inspected, maintained by us on good manner.. This is our style.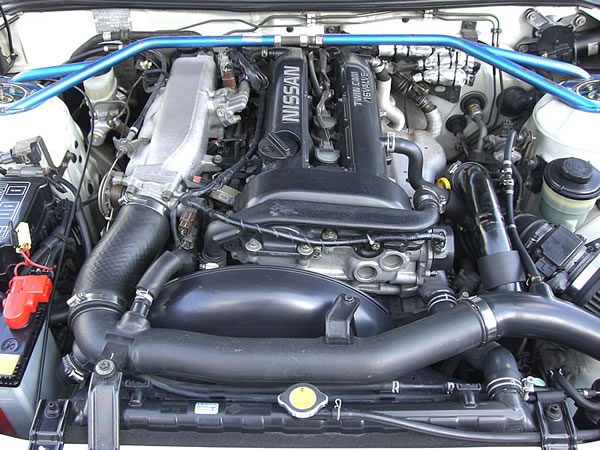 After the engine completely "Dried", We start the engine, then check again the rubbers, and the plastic parts, crackes, damages. This process is very important process for us "TO FIND MECHANICAL FAULTIES", and "MAKE THE ENGINE BAY ORIGINAL BEAUTY".

It's no use for us to Make it looks better than original, to find faulties, and check all parts conditions in details is important issue for us. All the vehicles we sold to canada is 15yrs old. Even though looks nice, We don't forget that "15years old vehicles", it's normal some rubbers damaged, plastic cracked, has some problems. We can make the mechanical better by this process.
This is the picture, just this S14 arrived at our stock yard, Not washed, polished yet, as it is.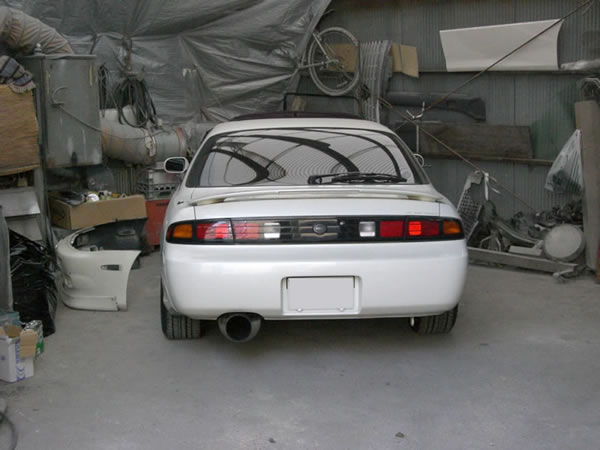 At our Mechanical/Body workshop, the front bumper removed already, ready for "Painting job".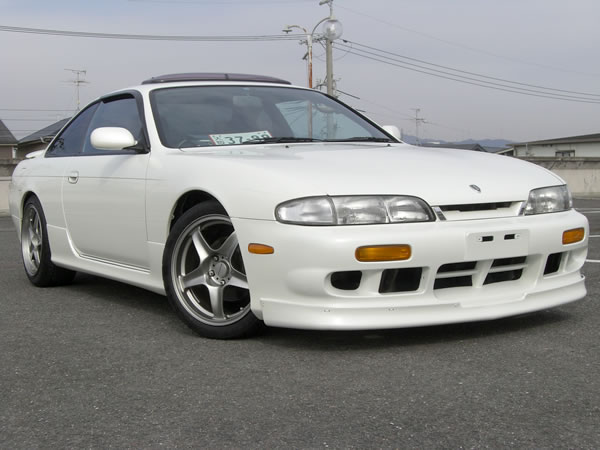 After All process finished, Looks back to "Original , very nice condition S14".
You can see "Beautiful S14 Pictures" at our inventory webpage, If you have time, Please visit S14-003 page, and What kinds of info We disclose, and We show many pictures..
MONKY'S Inc
2-17-19,Mishimaoka,Ibaraki-city,OSAKA5670021,JAPAN.
TEL/FAX:+81-72-624-6153 HOT LINE:+81-90-2062-2270
Enquiry Form Here
HOME OF MONKY'S INC WORLD WIDE INVENTORY
SECOND HAND VEHICLES EXPORT SOUTH AFRICA

2003 MONKY'S INCAll rights reserved.