Japanese Used Cars Used Truck Auction Service ---MONKY'S INC DEALER AUCTION SERVICE---

NOTE: If you are an Individual Custmers.
This Auction agent service for "DEALERS" applicable only for Dealers/Importers, We offer quality best auction bidding agency service. If you would like to get car with "Full inspection service" and "Reconditions, Modification services",
Please use "INDIVIDUAL AUCTION SERVICE", Many kinds of Additional service available on it.
Dealer Auction Service ---Easy navigation from A to Z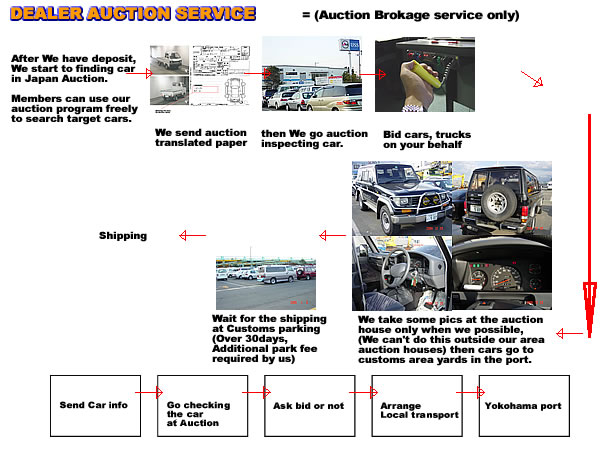 0
Please send "

Dealer Enquiry Form

" to us. We send temporally PW and ID for MONKY'S INC ONLINE AUCTION.
You can find your best cars, trucks by yourself in auction listing.
1
Please Send

"Auction De

posit"

by Bank T/T, Western Union , or PAYPAL payment
then send also Bank T/T paper, Western Union 10digit CT#. When we confirm it, Inform you.
2
You send us

"Auction Lot # & Auction house name"

via E-mail or via MONKY'S INC ONLINE AUCTION.
We have your requests, We translated auction paper, then return you with our comments.
4
Please inform us by E-mail, or phone us by "Verbal" "Go to bid it". We follow your decision, then go auction house,
inspect cars for you, then report the vehicle conditions before Auction time.
5
When The auction successfully bid, We send the invoice for the balance, then you arrange
transfer within 48hours.
6
We confirm your payment for the rest, We start shipping arrangement a.s.a.p. then inform you
when we get the booking on the roro boat, or the container shipping.
7
You get the car at the destination port, and all shipping documents sent by us DHL or EMS before
the boat arrives to the destination port.
ONLINE AUCTION PROGRAM- - Service available deposit paid custmer only
USS AUCTION
CAR LISTING

This program covers most of all Japan used car, Truck auction houses west to north, all over japan. You can select any kinds of Cars, and Trucks in total 50milion units available monday thru saturday.

You can see this pages Freely.
As long as we accept the deposit, We can pass the translated auction papers.
(Non deposit paid custmer can browse only)
Business Terms and Payment For Dealer auction service
PAYMENT MODE:
Please make the money transfer by Following payment methods. Currency is JPY(Japanese Yen Only)
1. Bank T/T (Telegraphic Transfer) payment
2. Western Union Money Transfer
3. PAYPAL (Requires 8% additional paypal fees)
NOTE : CREDIT CARD PAYMENT VIA PAYPAL
The Payee name and the Credit Card Holder name, or The Paypal payee name must be the same,
due to the Money Laundering laws in Japan. Any difference between Payee and Credit Card Holder
name can't be acceptable at us.

After you make the wire transfer by Bank T/T, Please send us Bank T/T copy, by Western Union, send us 10digit #.
The Deposit Payment is required by us Before Bidding cars, or trucks in the auctions.


NOTE:
1). We accept only Payment in Japanese Yen (JPY).
2). The deposit is "Refundable", except "After the bidding is successful".
When we refund the deposit, All these fees are deducted from the deposit.
Bidding fees total (1,000JPY per number unit we bid), Bank T/T fee (10,000JPY).
3). The deposit is seized by us, and Never refundable In case You don't send
the balance to us.


Deposit Table
F.O.B Total up to 500,000JPY
100,000JPY
Over 500,000JPY to 1,000,000JPY
200,000JPY
1,000,000JPY to 2,000,000JPY
30% for F.O.B Total
2,000,000JPY more
50 to 100%
BUSINESS TERMS & CONDITIONS
Our Business terms is basically F.O.B / C.I.F price basis.



* The bidding fee 1,000JPY charged every bid even though the bid unsuccessful
*Additional Local Transport fees charged in case the auction house far away from
the discharging port(We will send charge table after confirming your deposit)



Claims
Vehicle parts which is considered as "Consumable parts" (Brake pads, battery, rubbers, oils&fluids,shock absorbers,
belts, boots) are excluded any of claim. Parts missing, and stolen parts issue occured in transit to lands in the
destination port is also excluded.


Bill of lading and other shipping document amendment
Any changes for documents after the shipping requires the additional fess, 10,000JPY per 1B/L.
We can't make "Changes" on the documentation before we accept this fees in advance.


COMPANY BANK ACCOUNT INFORMATION:
Company Name : MONKY'S INC
Company Address : 2-17-19, Mishimaoka,Ibaraki-city,Osaka567-0021,JAPAN
TEL: +81-72-624-6153

Bank Name : RESONA BANK
Branch Name : Tamatsukuri Branch office, Osaka , JAPAN
Account Number : 1622127
Account Holder : MONKY'S INC Mr.Yasuhiro Totoki
SWIFT CODE : DIWAJPJT