FOR SALE Silvia K's CA18DET Modified car 1990/2 Model.
CANADA AUSTRALIA 1989 1990 R32 Skyline GT-R GTS-T Silvia K's 180SX CA18 SR20 modified Cefiro RB20DET modified All modified 4sale car available at MONKY'S INC
For sale Japanese used Car We export Silvia K's CA18DET Modified car,
FOR SALE JAPANESE USED 1989 1990 R32 Skyline GT-R GTR GTS GTS-T GTST TypeM GTS-4 GTS4, Silvia K's Q's J's CA18DET SR20DET swapped, 180SX CA18DET, Sil80 Sileighty CA18DET, SR20DET swapped, Cefiro RB20DET modified, RB25DET swapped, SR20DET swapped DRIFTING STYLE, Laurel DRIFT, Leopard DRIFT, Z32 Fairlady 300ZX VG30DETT, Pulsar GTi-R GTIR SR20DET AWD RNN14, Primera SR20DET swapped, March supre Turbo MA10, Pao, Be-1, Escargo, Toyota JZA70 1JZ Twinturbo, SW20 MR2 GT Turbo, AW11 Supercharged MR2, AE86, ST185 3SGTE AWD CELICA GT-FOUR, Chaser, Mark2, Twinturbo, Mazda Savanna RX-7 FC3S 13B Rotary turbo, Eunos Cosmo 20B 3Rotors, MX5 Miata Roadstar, Familia 323 AWD, Mitsubishi Galant VR-4 AWD 4G63, Subaru Legacy Turbo, All 15years performance car available at JAPANESE HIGH PERFORMANCE CAR EXPORTER MONKY'S INC, JAPAN.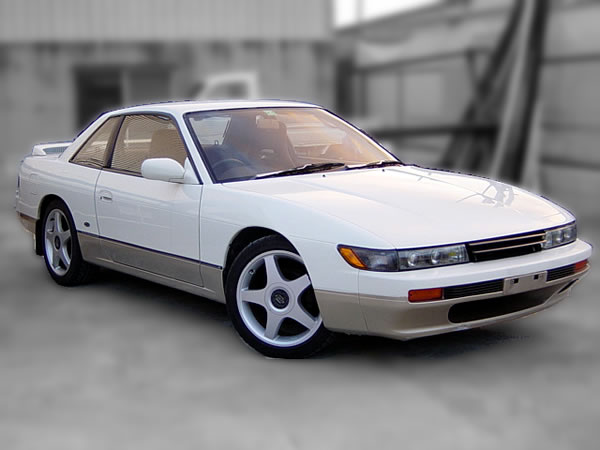 1990/2 S13 NISSAN Silvia K's 5spd TurboModified for sale
Stay your mouth pointer on each thumbnail to switching the image files.
Mileage ; Mileage Very Low 112,600KM around 70,380Mile Color; Ibory & Gold, 2tone colours.
P/S, P/W, P/M, AAC, 5spd trans, AM/FM /CD Casette audios.

TEIN adjustable coil overs, Strut Brace bars, Apexi AFC, Reprogramed ECU, 17'inch rims,
Aftermarket exhaust pipes, Skyline GT-R Type Front grill.




FOB ASK by e-mail directly
FOR MORE INFO ;
Please contact us by;
E-mail:office@monkys.jp
TEL/FAX:+81-72-624-6153