1990 CA18DET Nissan S13 Silvia K's
Aero modified FOR SALE
This is one of our performance used cars, nissan s13 ca19det model silvia k's aero modified car for sale.
This unit was driven gently by Automatic, then swapped with nissan genuine 5spd on 50,000km, very nice condition silvia k's.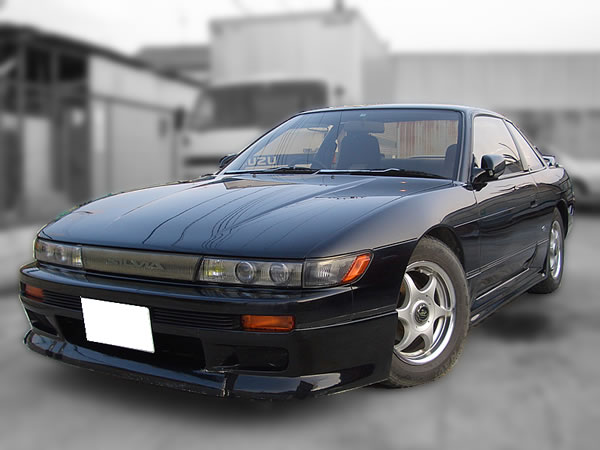 1990 S13 NISSAN Silvia K's 5spd with Aero body parts
Stay your mouth pointer on each thumbnail to switching the image files.
This Silvia K's was sold to a custmer in Canada on last August.
When We put this Silvia in this inventory, The conditoin of this Silvia K's was "Basically AS IS".After the custmer purchased at us, We cleaned up the vehicle completely in the engine bay, the interior, then changed the rims with ENKEI RACING nice 16'inch rims at our factory.

Now this car is storing in our secure stock yard and waiting for the next available vessel bound for Canada in September.

The big differences between "Usual Japanes Auction Brokage or export companies" and "MONKY'S INC" is "Supply the car at our best service".
In our area, No other Car export companies who has own stock yards, and service facotry, and give the special "Repairment and inspection service" to the custmers in overseas.

We recommend you to take this situations into your considerations when you plan to import your JDM used vehicles from japan.

We are always welcome "Individual custmer importation"!


FOB ASK by e-mail directly
FOR MORE INFO ;
Please contact us by;
E-mail:office@monkys.jp
TEL/FAX:+81-72-624-6153