1991 nissan 180SX Sileighty
(sil-eighty, sil80, sil-80) SR20DET FOR SALE
We export Japanese Performance Used Cars all over the world. This is one of our stock cars, nissan 180SX modified, called as sileighty.
SR20DET engine, down height suspensions, recaro bucket seats, exhaust mufflers.
STOCK No:KPRS13-002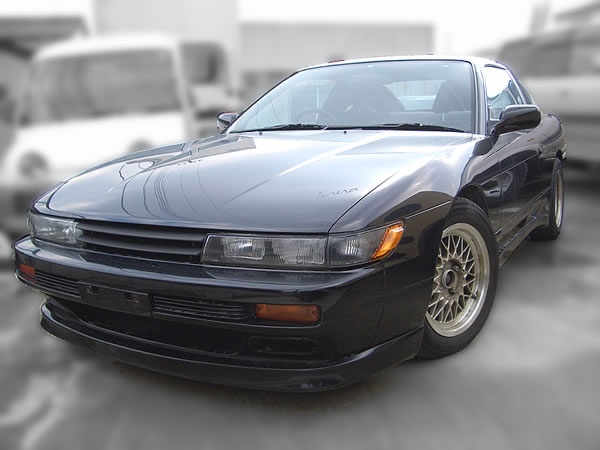 1991 Nissan 180SX /Sileighty SR20DET model sale
Stay your mouth pointer on each thumbnail to switching the image files.
Mileage ; Mileage 94,000KM around 58,750Mile Color; Black Metalic
P/S, P/W, P/M, AAC, 5spd trans.
There are no major dents and scraches on the body.
(Visible dent is on the right side quarter panel)
Rear bumper & Hatch gate paint condition is no good.

Modifications;
Sileight face lifted, 15inch aftermarket rims, aftermarket air cleaner,
exhaust muffler.
"TEIN Cring type" adjustable coil overs, TEIN tension lods installed.
Aftermarket 3spoke steering rim, Alluminum pedal covers.

Engine, turbo, and transmission condition is very good.

**Power steering pressure hoses, front right side steering lack boot need "Changed".

We recommend this vehicle to Australian and Canadian custmers.
This is the best vehicle for your "Drifting base Car".


FOB Ask by "Euquiry Form" or Direct phone call!
FOR MORE INFO ;
Please contact us by;
E-mail:office@monkys.jp
TEL/FAX:+81-72-624-6153