1992 Mazda RX-7 FD3S Twinturbo Mint Car Stock For Canada
CANADA CARS DIVISION of MONKY'S INC Stock Used Car , 1992 FD3S Mazda RX-7 / RX7 TypeR Original Mint Car FOR SALE
Very Low 66,500km certified, auction grade 4, Mint Condition RX7 stock car bound for Canada
Greddy BOV, Kakimoro Exhaust , 18inch rims, TEIN Coil over, etc.
STOCK NO:FD3S-007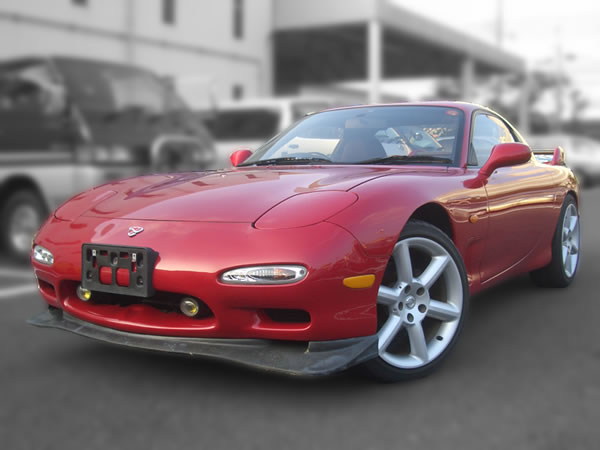 Mazda RX-7 FD3S TypeR Red 5spd FOR SALE
Stay your mouth pointer on each thumbnail to switching the image files.
Mileage ; Mileage 66,500KM around 41,600Mile Color; RX-8 Metalic Red
P/S, P/W, P/M, AAC, Fully option loaded.
NO SMOKING, VERY CLEAN INTERIOR VEHICLE.

Modification parts lists:
*Kakimoto Racing Exhaust muffler
*Greddy BOV
*TEIN height adjustable coil over
*Z33 18inch rims with wide spacer
*personal leather steering
*Techtom multi LCD monitor
*Engine torque damper kit
**Full Carbon front lip, rear 3D wing
**Series 3 tail lens assy
**DOT approved Front clear lens


This unit will be "Re-condition" completely before the shipment.
Our offer F.O.B. or C.I.F. Price includes all "inspection", "Parts, labor, recondition fees.

This FD3S has no major dents, no major scratches, truly grade "4" and "B" decent shape
If you'd like to get Low km, Good Condition, inspected FD3S, and ROTARY ENGINE car,
MONKY'S INC Canada division is the best company in japan , you buy your dream rx-7.




SOLD
FOR SALE 1992 FD3S RX-7 Modified
STOCK NO : FD3S-005



FD3S-005 Information Page
FOR MORE INFO ;
Please contact us by;
E-mail:office@monkys.jp
TEL/FAX:+81-72-624-6153