JDM Mini Truck Subaru Samber Supercharged 4x4 5Spd Extra Low Gear
This Samber Supercharged Mini Truck are available at MONKY'S INC, Ibaraki-city,Osaka, Japan and Luxury Imports Inc, Toronto, ON, Canada.
You can place an ordre with Both of us, import Samber truck directly from Japan by yourself, or use Luxury Import Inc, As your Import Broker.
This truch is "Inspected fully" at MONKY'S INC japan registered liscensed workshop, Ibaraki-city,Osaka, Japan.
New Battery, New 100% Synthetic Oils, filters, Wiper Blades will be installed before "Shipping process" in Japan.

STOCK NO : KS4SC-007
Picture gallery of 15years old vehicles which we sold to canada since 2002
Sold Vehicles Picture Sample Gallery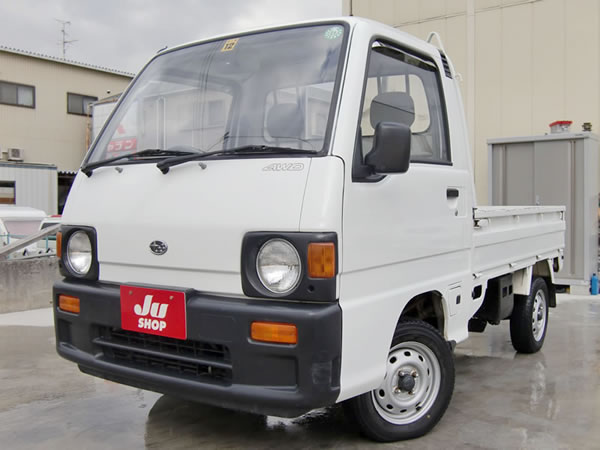 1990 Subaru Samber KS4 Supercharged 4x4 5spd EL Sale Canada
Stay your mouth pointer on each thumbnail to switching the image files.
Mileage ; Mileage 71000 KM around 44,400Original Mile Color; White
4x4, Extra Low Gear + 5spd(6spd manual)

Electric Plugs, Air cleaner, Engine Oil/Filter, Battery, Wiper Blades will be changed to New Items at our registered Japan M.I.T.I Liscensed workshop, Ibaraki-city,Osaka, Japan.
You don't need to change all these parts BEFORE YOU RIDE THIS.

If you would like us to replace "Every 100,000km scheduled maintenance parts",
Timing belts, Tensioners, Water pump, other V-ribbed belts, We can do it for you.
It costs, 45,000JPY, additionally required(Parts, Labor fees included.)

About Our Vehicle maintenance standards here:



VEHICLE QUALITY AND PRICE TERMS AND CONDIITONS PAGE
Vehicle Sales Info will be updated Soon!!!

[VEHICLE SPECIFICATIONS]
Samber Supercharger mini truck information page here

[VEHICLE DETAIL PICTURE]
Samber Supercharger mini truck picture gallery page here
SOLD
FOB/CIF price ask by Stock Car Enquiry Form
Stock Car Enquiry Form
Contact By E-mail Here

Mail Info

You can purchase this Lancer EVOLUTION 2 via our AGENT Edmonton, AB, CANADA.
They can do all necessary importation process, Local transportations, registrations.
FOB/CIF price is SAME you purchase MONKY'S INC and DJauto Imports, they charge only the reasonable fees.



Back to HOME PAGE
Back To Subaru Used Cars, Truck Lists page