Stock No : P35W-105
Picture gallery of 15years old vehicles which we sold to canada since 2002
Sold Vehicles Picture Sample Gallery
FOR SALE 1991 Mitsubishi Delica Starwagon Diesel P35W Crystal Roof
Stay your mouth pointer on each thumbnail to switching the image files.
Odometer ; Very Low 81,000KM around 50,700Mile Color; White
P/S, P/W, A/C, Rear interior light, Air Refresher, Ice&Hot box, Captain seats model 7seater.
Front 2, Middle 2 captain seats, rear 3, Custom Center arm-rest with VCR unit.

1owner car, auction grade 4 , certified km , very good condition delica starwagon.

Vehicle inspection report, detail pictures available at us, Please send "Stock Car Enquiry Form".



FOB Osaka Japan 295,000JPY
Enquiry Form
Stock Car Enquiry Form
Contact By E-mail Here

Mail Info
Other Utility AWD Vehicles in stock:
Subaru LEGACY Touring wagon,
This is a JDM model, sequential twinturbo, silent, powerful, safety AWD vehicles.
Good for "Rural mail carrier service", Summer/Winter vacations, Daily driving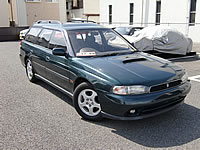 STOCK No: BG5-005
Stock Car Enquiry Form
Pajero Mini AWD
This is a JDM Kei Car AWD, Very Good on fuel, Reliable part time 4x4, A/C, confortable micro car.
Good for "Rural mail carrier service", narrow, small area activity, mountain, muddy roads, of course daily driving.

STOCK No:H56A-001
Stock Car Enquiry Form
FOR MORE INFO ;
Please contact us by;
E-mail:office@monkys.jp
TEL/FAX:+81-72-624-6153