USDM 1994 Chevrolet Impala SS V8 350cu.in LT1 Sale Japan
This USDM LHD Chevy Impala SS for sale at MONKY'S INC, Ibaraki-city,Osaka, Japan and Luxury Imports Inc, Toronto, ON, Canada.
You can place an ordre with Both of us, import Samber truck directly from Japan by yourself, or use Luxury Import Inc, As your Import Broker.
This truch is "Inspected fully" at MONKY'S INC japan registered liscensed workshop, Ibaraki-city,Osaka, Japan.
New Battery, New 100% Synthetic Oils, filters, Wiper Blades will be installed before "Shipping process" in Japan.
This Vehicla also "For sale" locally in japan at Our Liscensed New/Used Car dealer shop Nikoniko-auto, Takatsuki,Osaka,Japan.

STOCK NO : USDM-002
Picture gallery of 15years old vehicles which we sold to canada since 2002
Sold Vehicles Picture Sample Gallery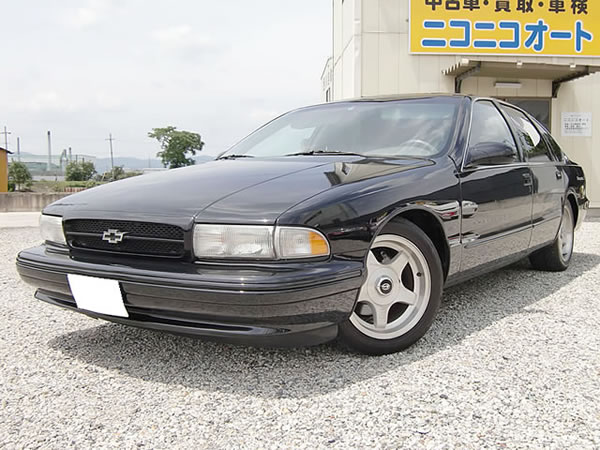 1994 Chevy ImpalaSS For Sale Japan
Stay your mouth pointer on each thumbnail to switching the image files.
Mileage ; Mileage 72,000 KM around 45,000 Original Mile Color; 41U Black
4L60E 4spd Column Auto, 350 Cu.in LT1 V8 Iron block, Bilstein Damper with Eibach Low inch coils, stiffer bushings. Original ImpalaSS design Alloys with 255/45/ZR17.
New Brake rotor, Wagner brake pads.

Very famous 9CI Police package Caprice sedan base model, Specially made 1994 to 1996 High performance 4dr sedan. This unit looks "Original style", Non modified unit, rare in japan.

You like this "Not abused, Not modified", Full stock condition, This unit is the best unit for you.

This ImpalaSS is one of private collection , MONKY'S INC President YAS, Well maintained unit.
These parts already replaced with New parts at His workshop.
@Water Pump, Distributors, electric plugs, plug cables, spark modules, water pipes all, battery,
disk rotors, brake pads, seals, all fluids, and liquids at 10th June, 2011.

About Our Vehicle maintenance standards here:



VEHICLE QUALITY AND PRICE TERMS AND CONDIITONS PAGE
Vehicle Sales Info will be updated Soon!!!

[VEHICLE SPECIFICATIONS]
1994 Impala SS specifications

[VEHICLE DETAIL PICTURE]
1994 Impala SS picture gallery
FOB Osaka Japan 900,000JPY, plus S/H fees.
CIF arrival port price ask by Stock Car Enquiry Form
We quote the shipping cost to your port.
Stock Car Enquiry Form
Contact By E-mail Here

Mail Info
REMARKS:
Enquiry From U.S.A, and Canada
This ImpalaSS was originally made for U.S.Market, meets all FMVSS rule, the FMVSS sticker on the driver seat side door was unfortunately "Removed", but You can get the FMVSS approved document at GM Northe america by this vehicle VIN number, so If you need to certify this unit meets FMVSS or CMVSS, We will send you the original VIN number after We confirm the payment by custmers, you have no problems to import this from japan to the u.s, or canada.
Back to HOME PAGE
Back To Subaru Used Cars, Truck Lists page