Japanese Kei Car, Mitsubishi Minica Toppo Van,
Full time 4WD with DOHC 5valve engine
This is a japanese kei-cargo-van fulltime 4wd, with 5spd manuals, Dog and Cat carry car popular in Japan!
1990 Mitsubishi minica toppo Q4 fulltime 4wd van
Stock No:H27A-001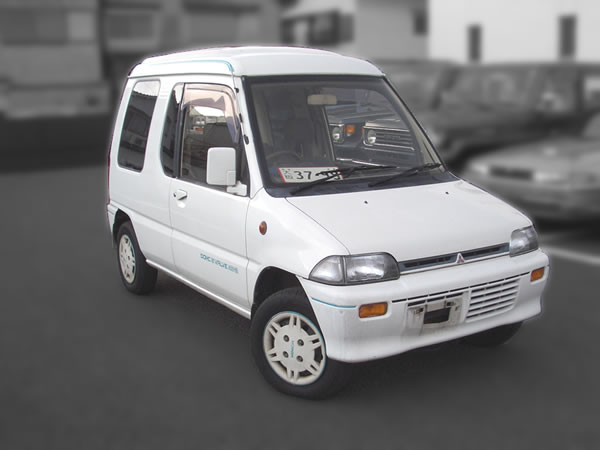 Japanese Kei Car(Kei-Jidousha) Cargo Van
Mitsubishi Minica Toppo Fulltime AWD van
Stay your mouth pointer on each thumbnail to switching the image files.
This Minica Toppo "4WD" version model is quite rare in japan used car market.
660cc DOHC 5valve engine with 5speed manual, full time 4wd drivetrain.
Better for Winter season, and snowing area.
Small, Good fuel efficiency, and Big Cargo Room..

Specifications
Mitsubishi Minica Toppo Full time 4WD
Fuel Consumption ratio : 15 to 18km / 1L in city, 20km / 1L in high way 100km crusing

Fuel efficiently, small size, utility kei car , sold very well in japan, Famous Kei Cargo Van.
This Toppo is very rare "Full time AWD" model.
You can enjoy and save your money....

FOB Yokohama Japan 220,000JPY, Enquiry Form
FOR MORE INFO ;
Please contact us by;
E-mail:office@monkys.jp
TEL/FAX:+81-72-624-6153