Japanese Kei Truck, SUZUKI CARRY,
Subaru Samber, 4WD with Diff lockers, etc.
This is a japanese kei-truck 4wd, with electrical diff lockers,selective 4wd, part time heavy duty 4wd mini truck.
Japanese Mini Truck 4x4 Pick up Truck
Suzuki Carry 4WD Pick up Truck 660cc Model
1991 Suzuki Carry 4x4 mini truck DB51-T model.
25,000km, 5spd, 660cc, Part time 4x4,


Price:
C.I.F. Vancouver CFS(=Container Freight Station) 480,000JPY,
40FT LCL container shipping fee, marine insurance fee included.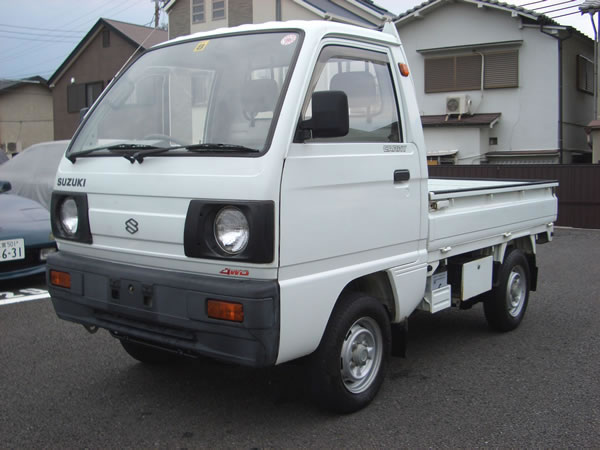 Japanese Kei Car(Kei-Jidousha) Pick up Truck
Suzuki Carry 4WD Pick up Truck
Stay your mouth pointer on each thumbnail to switching the image files.
This is popular Japanese microsize truck,
upto 1990 Most Kei Car 550cc engine, after 1990 year 660cc engine model available.
Small, Good MPG, reliable mechanism, Simple, High quality, versatality,

Anykinds of Kei truck, kei car available at us.

Kei-JIdousya =Japanese micro car.


FOR MORE INFO ;
Please contact us by;
E-mail:office@monkys.jp
TEL/FAX:+81-72-624-6153